Umbrella company
Umbrella company services are an essential tool to support consultants, industry specialists,  business professionals and entrepreneurs in the development of their professional endeavors.
A regulated status
Umbrella company services are registered within the French Labour Code under the law n ° 2008-596 of June 25, 2008 governing the modernization of the labor market.
Operating procedures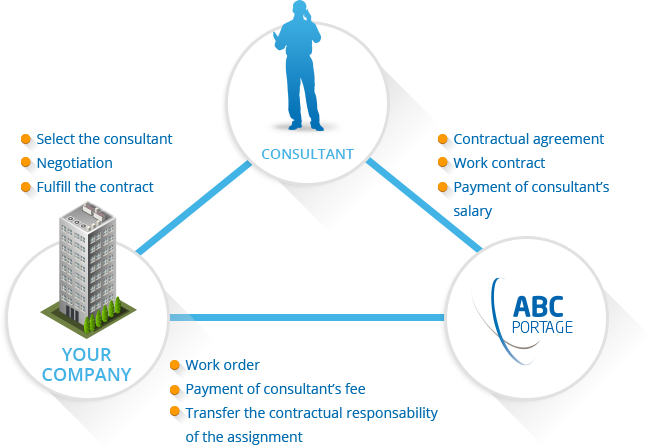 Formalities
First contact with ABC Portage
Presentation of the project, FAQ
Finalizing your contract with your Business customer
ABC offers the necessary logistics
Sign the "Portage Agreement" between you and ABC Portage
This contract confirms our partnership
Sign the "Project Contract" between ABC Portage and your Business customer
Outline contractual conditions regarding the project and your client
Sign the "Employment Contract" between ABC Portage and You
Security for your job status
Transfer of salaries
According to your timing and with total transparency
The contractual agreement with the freelance administration defines the terms of the relationship between ABC Portage and your consultant :
Appointment of an account manager who will  handle all the procedures
Assistance in the negotiations between your consultants and you, unlimited technical support
The signature between ABC Portage and your consultant
The work order satisfies business legislation and establishes the contractual relationship between ABC Portage and your company :
Definition of the assignment
Transfer the legal responsibility between the corporate entities
Agreement for the terms of stewardship : the time period, the required interventions, the starting date, advances, salary, and the handling of expenses
Conditions for rupture, termination, or incapacity…
The signature between ABC Portage, your consultant, and your company
The work contract addresses all legal obligations with regards to work legislation :
Short-term or long-term contract, full-time or part-time
The duration  specified by the work order; customized to your specific needs
Benefits from the French social coverage
ABC Portage is held responsible before French legal tax and adminsitrative authorities.
More information about umbrella company in France: