What is a French umbrella company ?
Employment can be a tedious thing.
It's difficult to find suitable work nowadays because the tedium of the job and the rigid structures of the work place drives potential employees away.
The new, emerging markets and vast clientele that have sprung up seemingly overnight are now in turn producing a more individualistic and independent workforce; certain people with certain skill sets whose mindsets lean towards a more uninhibited arrangement that allows them more freedom.
About the only thing regular employment offers are the employee benefits as well as the status of being an employee.
But what if there was a way to enjoy not just the freedom of an independent contractor but also have the benefits and security of being an employee?
That's where umbrella companies come in.
Umbrella Companies Lighten Your Load
Umbrella companies act as a channel between contractors and clients. Umbrella companies manage the administrative aspects of the job like your timesheet, taxes and other fees so you can maximise your work hours to its fullest potential and ensure the highest possible commensurate pay for your work.
They take care of the paperwork, the behind the scenes so you won't have to. Therefore, the contractor would be free to go about his/her work.
That's more time spent on actual work and more work brings in more money. You also don't have to go thru the hassle of constantly updating your client for payment because the umbrella company will secure payment for you.
The tax system in France can be a complicated thing and the downside to working independently is you have to file for it on your own.
Umbrella companies handle your taxes so you don't have to. Additionally, they don't stop at just handling the taxes but ensuring that you spend the least amount on it to have bigger and better monetary returns.
French Umbrella Company: Freedom of Freelance with Employee Status
Working for an umbrella company technically makes you their employee however you still work as though you were an independent contractor; you are free to look for your own clients that require your specific skill set whilst being on a pay roll.
Contracting in France is especially tedious because it requires a work permit and employee status before you can even receive payment.
Luckily, umbrella companies — well-represented and established umbrella companies in particular — can arrange this for you.
This allows you to work with complete autonomy but also provides you with protection, as you are under a recognised umbrella.
The rise of umbrella companies in France is now at the forefront given that an emerging market of new clientele with specific needs is vastly growing.
In 2008 in fact, the French government has recognised umbrella companies, allowing private sectors to build their umbrellas with provisos (Ordinance No. 2015-380 of April 2015 on Portage).
Though the order does present with certain limitations, it also gives rights to umbrella employees. For example, umbrella employees attain seniority conditions within a set number of months.
Setting up your own business in France can be difficult; the process is long and expensive.
With umbrella companies, you can now work and contract in France without going through the hassle of actually setting up the business or being tied down by administrative work that comes with the job.
You skip all of this and get right down to work. Granted it isn't anything you can call your own but for those individuals who wish to simply earn and pursue their trade according to their wishes, then umbrellas are their quickest and easiest solution.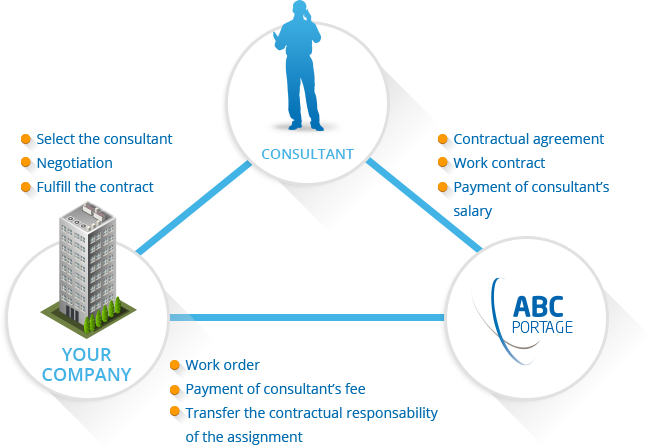 Umbrella Companies are "Self-Employment" Employment
How does the setup work exactly?
Once the umbrella company has deemed the contractor suitable for work, the contractor may now look for a client. The contractor employee gets to negotiate his/her own work rates and work hours with the client and carry out the terms of their contract as freely as he/she wishes.
So where do umbrella companies step in?
Signing up for an umbrella company is more like signing up for an administrative manager. For a certain fee, umbrella companies will handle all of the administrative work.
For example, a contract has been fulfilled and the contractor is now ready to bill the client. The client information will be forwarded to the umbrella company by the employee and the company in turn sends the client an invoice.
The client will pay the umbrella company for the employee's work and the umbrella company gives the employee his/her salary already with deductions for taxes and management fees.
The computed deduction varies from umbrella to umbrella but rest assured that the company makes it so that you pay the least amount to enjoy the most out of your earnings.
It's simple and completely hassle free.
Umbrella companies take the tedium of an independent business from the contractor's hands, allowing them to get to what counts: to work and to earn at their own pleasure.
More information about umbrella company in France: