Services
Operating procedures
You have identified the consultant who will complete an assignement but you cannot or would rather not employ them directly.
We offer you the possibility to integrate the consultant via ABC Portage. We transform their billing fees into a salary.
The simplicity of our operations involves the management of the three entities concerned : your company, the consultant, and ABC Portage.
You trust your assignment to a consultant who will submit billing fees.
Your consultant fulfills the assignment while benefitting from the status of a French salaried employee.
ABC Portage takes the responsibility of putting the consultant on the payroll (work contract) and signs a work order for that assignment with your company.
ABC Portage is responsible for and manages all the related issues with the French administration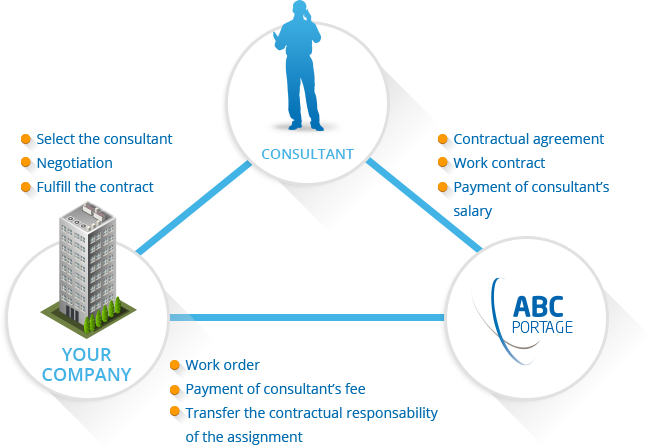 A partner that will serve useful in your search for qualified consultants
ABC Portage assures the assignment of your consultants by taking charge of all the administrative issues, the social and tax issues, as well as the business expenses.
You can devote yourself fully to your business projects, your responsibility is limited to signing the work order and paying the bill.
Our guarantees :
The expertise necessary in setting up your personnel in France.  With ABC Portage you can test  the French market before establishing a French subsidiary.
Upon request, ABC Portage employs the consultants that you have identified to promote your products and/or services.
A team of multidisciplinary specialists at your service, to answer all of your concerns regarding social, tax, legal, and financial issues.
A  service offering at hand that provides you with made to measure solutions for your consultants.
The ability to manage the  assignments of your consultants in France or abroad.
What is the cost ?
Our service fee is approximately 10% of the monthly invoice
For a detailed consultation
Contact us!
Give us the amount of the gross salary you want to pay to your representative, and ABC Portage will prepare a detailed simulation of the total cost for your company.
+33 (0)1 43 80 93 61